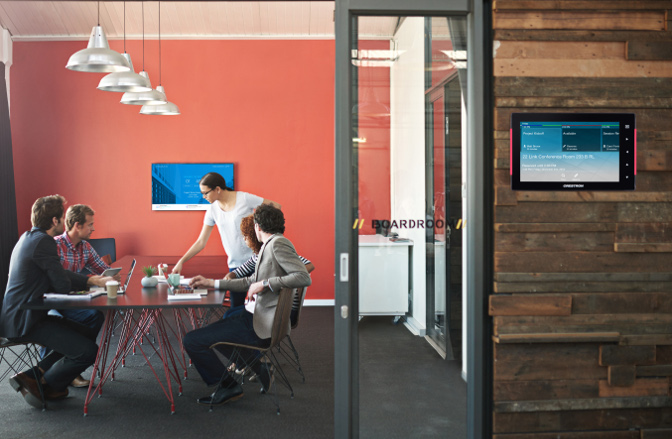 Crestron stellt auf dem EUNIS-Kongress 2017 seine neuesten Technologien für den Bildungssektor vor. Neben DigitalMedia und DMPS Präsentationslösungen zeigt Crestron auf dem Kongress, der in der Universität Münster abgehalten wird, auch die Überwachungs- und Raumbuchungssoftware Crestron Fusion.
Die gezeigten Lösungen bieten eine Vielzahl von Funktionen und Vorteilen speziell für Universitäten und Hochschulen, die den "smarten Campus" verwirklichen möchten. Die Teilnehmer haben die Möglichkeit, die innovativen Funktionen der einzelnen Lösungen zu erkunden und zu sehen, wie Technologie die Effizienz einer Bildungsumgebung wandeln und optimieren kann.
EUNIS, die European University Information Systems Organisation, hält ihren Jahreskongress vom 7. bis 9. Juni 2017 im IT-Center der Universität Münster ab, die mit 44.000 Studierenden zu den größten Universitäten Deutschlands gehört. Eines der Hauptziele der Organisation EUNIS ist es, einen Beitrag zur kontinuierlichen Entwicklung von hochwertigen Informationssystemen für das Hochschulwesen Europas zu leisten. Der jährlich stattfindende EUNIS-Kongress bietet IT-Verantwortlichen in Universitäten und Forschungsorganisationen eine ideale Plattform, um Kontakte zu knüpfen, wertvolle Erfahrungen auszutauschen und aktuelle Themen und Branchentrends zu diskutieren.
Frank Boshoven, Business Development und EMEA Education Program Manager bei Crestron, wird am 7. Juni um 17.30 einen Vortrag zum Thema "Maximising Productivity and Learning Time – Fundamentals and Requirements in the Usage of AV Technology" halten.  Dabei wird er erläutern, wie sich die AV-Technologie im schulischen Umfeld einsetzen lässt, um mehr Effizienz zu schaffen und das Lernerlebnis zu optimieren.
Fusion Raumbuchungssoftware
Besucher können am Stand Crestron Fusion erleben. Die Lösung ist eine Kombination aus Überwachungs- und Raumbuchungssoftware mit Funktionen wie Raumbuchung, Help Desk-Support, globaler Geräteüberwachung und Datenmeldeservices. Die Raumbuchungsfunktion lässt sich unkompliziert in alle gängigen Kalenderprogramme integrieren, vereinfacht dadurch den Buchungsvorgang und optimiert die Gesamtnutzung von Räumlichkeiten. Das globale Supportsystem von Crestron sendet Warnungen, damit Experten Probleme per Fernzugriff schnell beheben und potenzielle Unterbrechungen minimieren können. Darüber hinaus erfasst Fusion Daten und erstellt Berichte, die zeigen, wie und von wem die Räume genutzt werden und wie Technologie eingesetzt wird, so dass Bildungseinrichtungen die Belegung von Räumen optimieren können. Crestron Fusion bietet eine Plattform, die alle Elemente für eine erfolgreiche Raumverwaltung vereint und so Probleme mit bestehenden Systemen ganz einfach beheben kann.