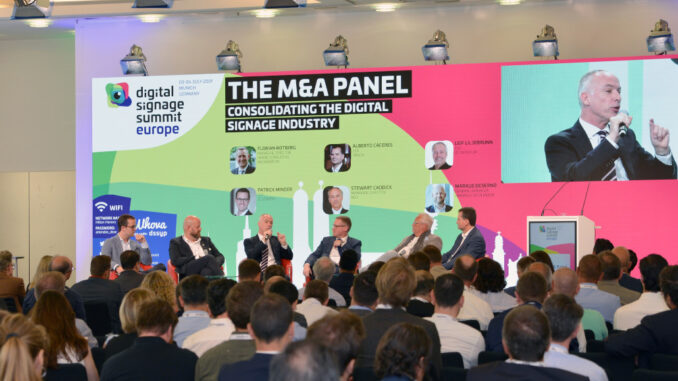 Der Digital Signage Summit 2022 (DSSE) hat auch dieses Jahr wieder ein umfassendes Angebot an Vorträgen zum Thema Digital Signage, die zeigen sollen, wohin die Reise geht. Auch Kritisches wird beleuchtet.
Der Summit (DSSE) findet wieder in München statt, im Hilton Airport am Flughafen, am 6. Und 7. Juli. Er bietet neben den Vorträgen auch wieder eine Ausstellungsfläche, auf der Anbieter ihre Produkte und Lösungen vorstellen können und auch ein Unterhaltungsprogramm.
Mehr als 60 Vortragende aus der EMEA-Region konnten gewonnen werden, die sich visionär wie kritisch über Themen und Konzepte und Innovationen äußern und sich auf vier aktuelle Themen konzentrieren:
Digital Signage als geschäftskritisch Faktor – Digital Signage als Asset
Green Signage – wie man Nachhaltigkeit mit Digital Signage erreicht
Industrielle Entwicklungen – Trends, Entwicklungen und Innovationen
Konzepte und Inhalte – wie man Erlebnisse in der realen Welt und im Metaverse schafft
Es bleibt natürlich nicht bei den Vorträgen allein. Das Programm wird abgerundet mit Diskussionsrunden, "Kamingesprächen" und natürlich – Networking.
Zu den Highlights des Veranstaltungsprogramms gehören:
The Leaders Panel – Ist groß groß genug? (Mittwoch 10:30 – 10:50 Uhr)
Per Mandorf – CEO & Presdent, ZetaDisplay
Manlio Romanelli – President, M-Cube
Alberto Cáceres Tejedor – Group CEO, Trison World
Jonathan Wharrad – VP Global Brands, Mood Media
Roi Iglesias – Marketing Manager Strategy & Innovation, Econocom
Green Signage – Tackling Digital Signage's Carbon Footprint (Mittwoch 11:30 – 11:50 Uhr)
Theresa Kirchweger – Sustainability Manager, Umdasch The Store Makers
Christof Böhm – Senior Vice President Engineering, Quality Assurance & Service, Sharp NEC Display Solutions
Rainer Karcher – Global Director of IT Sustainability, Siemens
How Porsche is Changing the Rules of the Digital Signage Industry (Mittwoch 12:00 -12:20 Uhr)
Roland Grassberger – CEO, Grassfish Marketing Technologies
Oliver Mack – Managing Partner, Macom
Alberto Cáceres Tejedor – Group CEO, Trison World
Boss (Donnerstag 10:10 – 10:30 Uhr)
Robin Hoffmann – CEO, Heardis
Holger Konschewsky – Global Marketing & Brand Communications Manager Instore Digitalization, Hugo Boss
Markus Doetsch – Managing Partner Procult, Heinekingmedia
Changing the Game of Media Player (Donnerstag 10:30 -10:50 Uhr)
Stanislav Richter – Geschäftsführer, SignageOS
Radjen van Wilsem – Geschäftsführer, CS Digital Media
Das vollständige Programm ist jetzt online verfügbar unter www.digitalsignagesummit.org/europe. Mehr In Informationen gibt es auch hier: www.digitalsignagesummit.org/europe
Die DSS Europe ist ein Joint Venture zwischen Integrated Systems Events, dem Veranstalter der ISE-Messe, und invidis consulting, einem führenden deutschen Beratungsunternehmen für Digital Signage.