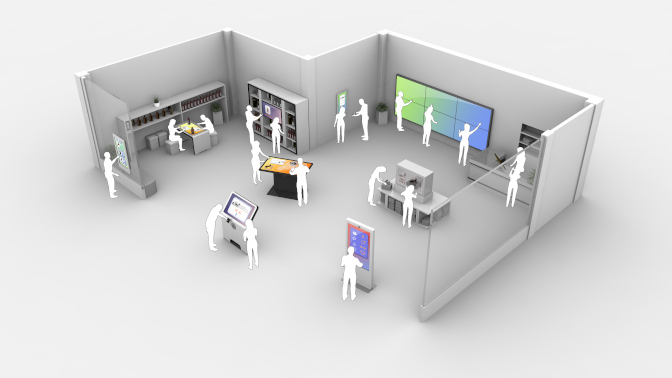 ISE 2020, Halle 8, Stand K390
Interactive Signage am POS steht im Fokus vom Hamburger Unternehmen  eyefactive, denn am Point of Sale werden neue Omni-Channel Lösungen gesucht, um im Wettbewerb mit wachsender Konkurrenz insbesondere im E-Commerce zu bestehen.
Auf der ISE werden u. a. eine neue MultiTouch App, die es Store-Betreibern ermöglicht, ihr gesamtes Produktportfolio virtuell auf großen Touchscreens zu präsentieren. Kunden können sich damit u.a. eine Wunschliste anlegen, Produkte in einen virtuellen Warenkorb ablegen und verschiedene Checkout-Möglichkeiten nutzen. Vom Versenden des virtuellen Warenkorbs per E-Mail bis zur direkten Bezahlung etwa via Mobile Payment können Shop-Betreiber damit die vollständige Customer Experience abbilden. Zusätzliche Retail-Technologien wie Objekterkennung, Produkt-Scanner oder Real-Time Analytics optimieren die User-Experience am Point of Sale und liefern genauere Daten, um das Produkterlebnis vor Ort für Kunden zu optimieren.